Enrich your library.  Try new recipes. Live Longer.  Spread the wisdom.
As the rest of the world keeps ignoring the importance of health and health education for human and planetary wellbeing, we'd like to reinforce its significance by sharing a life-saving collection of conscious, whole food, plant-based, vegan books and cookbooks with you!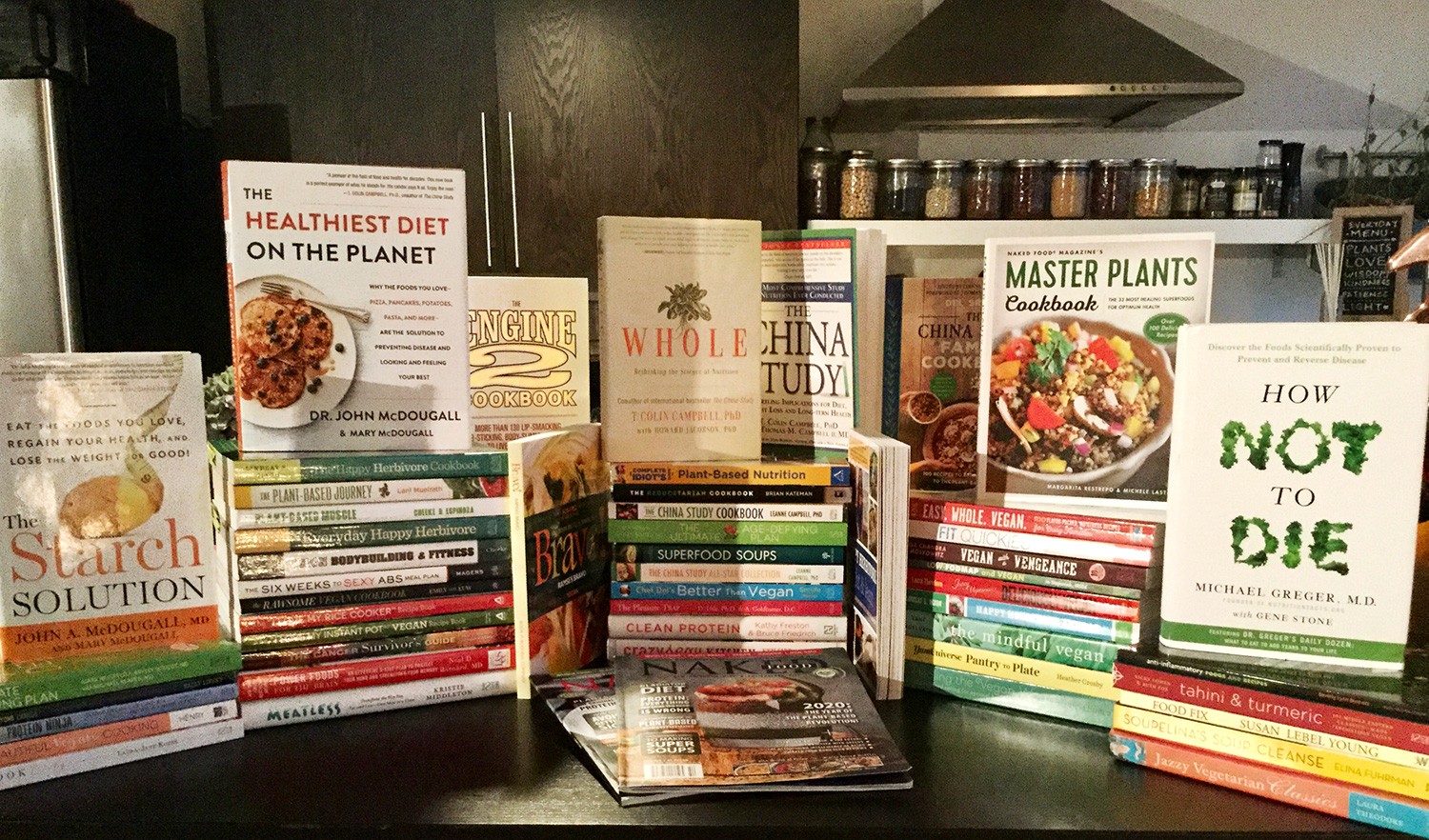 Donate $10 or more in support of WFPB.ORG for a chance to win a book or cookbook every day during the months of June and July, 2020. We are also giving away two one-year Naked Food magazine subscriptions at the end of the giveaway!
We will randomly select one winner and one book each day.  Winners will receive their books by postal mail.
Donate to win now.
Book Giveaway: Stand Up for Health Education
All the ways to give
We must help individuals and organization to make the connection and educate them to make life-saving, healthful, and sustainable changes.  Already, we've reached thousands.  With your help, and we can do even more to help build the sustainable world we all know is possible.
Mail checks to:
WFPB.ORG,
P.O. Box 550551
Fort Lauderdale, FL 33355
Wills
By including WFPB.ORG in your will, you can guarantee that your investment in human and planet sustainability will continue on. You can leave a legacy by naming WFPB.ORG a beneficiary of:
A specific dollar amount or estate property
A specific percentage of your estate
A specific percentage of your residuary estate (the % that is left after all other bequests and/or expenses have been paid)
Your attorney may opt to use the following language when making an endowment to WFPB.ORG:
"I give, devise, and bequeath to WFPB.ORG, a nonprofit organization with Federal Tax Identification number  82-4360670, located at P.O. Box 550551, Fort Lauderdale, FL 33355, the sum of $___ (or the property and/or portion of the estate) to be used for its general purposes."
Living Trust
Naming WFPB.ORG as a beneficiary of your living trust ensures your ongoing support for human and planetary sustainability. Unlike a will, a living trust takes effect immediately upon your passing and is also revocable.
In order to nameWFPB.ORG as a trustee, you must transfer ownership of specified assets from your name to WFPB.ORG. You will have use of all of these assets while knowing that they will someday support a worthy cause. When filling out the legal documents with your attorney, please use this material:
Our Legal Name:

WFPB.ORG

Our Mailing Address:

 

P.O. Box 550551, Fort Lauderdale, FL 33355
Our Federal Tax Identification Number: 82-4360670
Use "Charity" as your relationship to the beneficiary
Note: Please consult your attorney or legal advisor to ensure that your plans are in compliance with all applicable laws.
Confidentiality & Security.
WFPB.ORG takes the confidentiality of your information very seriously. For this reason, we use the highest level of security technology when dealing with your credit card information. To guard against fraud, your information is securely encrypted and automatically passed directly to the financial network for processing. At no time is this information made available to any other party.
Donations are made "at will," as we are not directly soliciting donations from any specific states, regions, or countries. All donations go to WFPB.ORG a 501(c)(3) non-profit organization and are tax-deductible to the fullest extent allowable by law.
Transparency.
Making significant changes and disrupting the status quo through education and empowerment are the purpose of our organization.  We have chosen to act instead of stand, and to hear instead of be heard.  Our purpose of life is powered by an engine of love, truth, and compassion toward humans, animals and planet.  Our financials are as transparent as our message.  Check out our GuideStar profile.